It's been a long time since we planned to go to the famous Rauðisandur (Red Sands). This summer we gave it a go and we were not disappointed.
Although Rauðisandur is stunning, the journey there is equally as exciting, albeit in a different way. Only 10 kilometers separate the branch from Patreksfjörður and the summit of the heath from Rauðisandur. Those last couple miles were breathtaking. Whether you go up or down, this is certainly one of Iceland's most beautiful and exciting mountain roads.
When you get down to Rauðisandur, it is a few kilometers to the campsite, and from there it is very convenient to get down to the sand. We don't have much larger light or red sand in Iceland, and when you get down to the sand it seems even bigger.
When you walk across Rauðisandur, you are greatly moved by the splendor of the red sand as well as by the idea of the inhabitants who lived there in the past, cut off from the outside world for a significant portion of the year. There is a footpath leading from the campsite to Sjöundá, the scene of horrible incidents more than 200 years ago when a man and a woman were murdered by a couple who were later given the death penalty for the crime.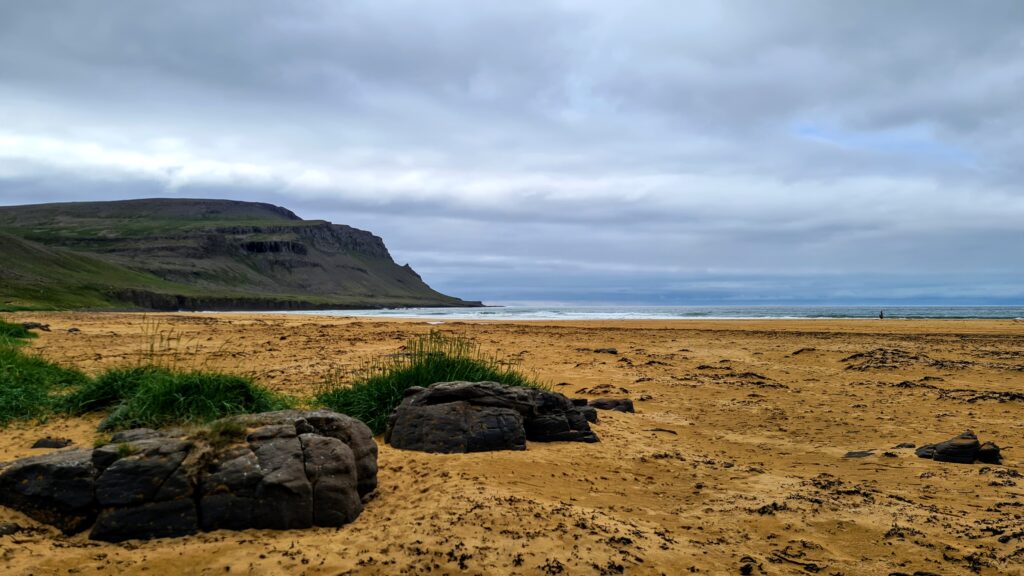 Rauðisandur ought to be on the bucket list of everybody who wants to see the Westfjords and all of Iceland. Although it would have been lovely to visit the location in the sun, at sunrise or sunset, it was fairly cloudy while we were there. However, it will be done as soon as possible.