A traveler can find many beautiful and unusual natural phenomena in West Iceland. Among the attractions there are the Hraunfossar and Barnafoss waterfalls. These waterfalls are located on the way to Husafell and are easy to access.
Hraunfossar is a series of waterfalls formed by rivulets flowing over 900 meters from the Hallmundarhraun, a lava field formed by an eruption of one of the volcanoes beneath the glacier Langjokull. The waterfalls flow into the Hvita river from ledges of less porous lava rock. The name is derived from the Icelandic words for lava and waterfalls – Hraun and fossar. The Hraunfossar are near Husafell and the historic Reykholt, which was home to the famous author Snorri Sturluson.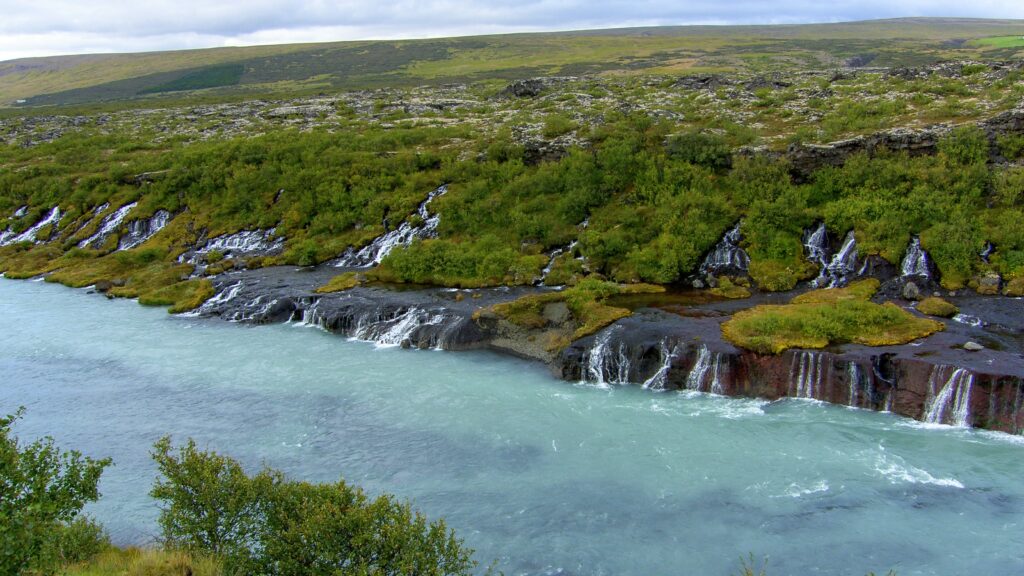 The Hraunfossar Falls are clear, cold springs that well up through the lava running in falls and rapids into the Hvita River. Evolving through recorded history, Barnafoss waterfall (Children's Waterfall) has a sad and touching history. According to the saga, there were two children in the Hraunsas household who went missing, possibly because the children became bored and decided to go out. The children's tracks were followed to this waterfall, where they vanished beneath the stone natural bridge. The mother concluded that the children had drowned after falling into the river. The mother had the arch demolished to ensure that no one else suffered a similar fate.
These waterfalls are not among the most magnificent and breathtaking waterfalls in Iceland but have a lot of charm. Hraunfossar has become somewhat of a tourist destination, with good facilities provided to make a stop and enjoy the area.