Landmannalaugar is a well-known tourist destination in the highlands of Iceland, and it is well-known for the breathtaking natural beauty that can be seen there as well as the hiking paths. It is in the southern part of the Icelandic Highlands, close to the edge of the Laugahraun lava field, and is surrounded by colorful rhyolite mountains, steaming springs, and winding rivers.
The area is known for its network of hiking trails, especially the Laugavegur Trail, which is thought to be one of the most beautiful places to hike in the world. The trail is around 54 kilometers long and takes hikers through some of Iceland's most magnificent scenery, including glaciers, geysers, and hot springs. Most hikers take three to four days to finish the trail because it is so long and hard.
The Laugavegur path is well-known for the spectacular and varied scenery that it passes through, some of which include glaciers, black sand deserts, glaciers, colorful rhyolite mountains, hot springs, and rivers. Hikers should be ready for rough terrain and weather, like steep climbs and descents, river crossings, and the chance of being exposed to strong winds and rain. The Laugavegur Trail is a popular location for hikers from all over the world who are looking for a one-of-a-kind and difficult outdoor trip, despite the difficult terrain.
In addition to being able to enjoy the outdoors by hiking in Landmannalaugar, tourists may also take a refreshing plunge in the neighboring river, which is fed by the hot springs, or have a soothing soak in the hot springs. The hot springs are a popular place for tourists to visit, and many of them say that their time there was one of the best parts of their trip to Iceland.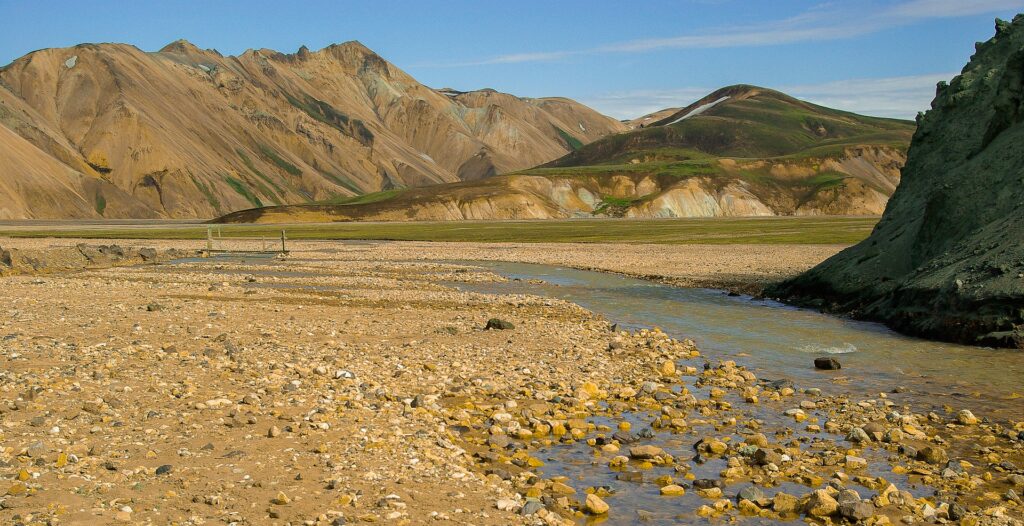 Due to their isolated location and harsh weather conditions, Landmannalaugar and the Laugavegur Trail are only accessible during the summer months, which normally run from the middle of June to the middle of September. On the other hand, during this time of year, it is a popular destination for hikers, backpackers, and nature enthusiasts who come to experience the breathtaking vistas of Iceland's highlands.